Type 1 Water

All AQUA SOLUTIONS Type 1 DI Systems produce 18.2 megohm-cm Ultrapure water that meets or exceeds ASTM, CAP and CLSI specifications for Type I reagent grade water. Standard Flow (2 Liters/Min) and High Flow/High Capacity (8-12 Liters/Min) versions are available in Analytical, Biological and Ultra-Low TOC versions.
These affordable Type 1 Laboratory Water Purification systems are utilized in operations using either Ordinary Tap Water or Pretreated Water.
Our Standard Flow (2 Liters/Min) TYPE 1 DI and RODI Systems operate on 12 VDC internal power, and can accept 100-240 VAC power at 50/60 Hz for industrial usage anywhere in the world! They are certified by CSA and can be "CE" Marked for export.
MVS Type 1 DI Water System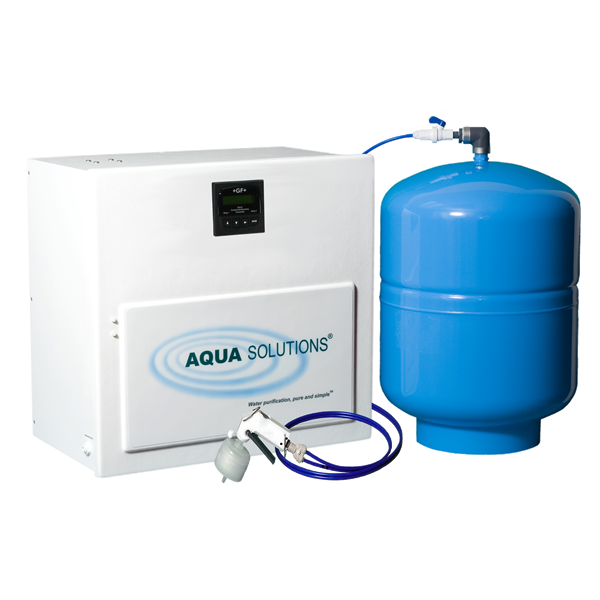 Models
Basic Analytical Grade
| | | | | | | | |
| --- | --- | --- | --- | --- | --- | --- | --- |
| Model Number | DI Flow Rate | Built-In UV | Built-In Ultrafilter | TOC PPB | Feed Water | RO Production | Storage Tanks |
| 2121A | 2 | X | No | < 50 | Pretreated | X | X |
| 2122A | 2 | X | No | < 50 | Tap Water | X | X |
| RODI-C-12A | 2 | X | No | < 50 | Tap Water | 10-LPH | 42-Liter |
| 2035A | 8-12 | X | No | < 50 | Pretreated | X | X |
| 2036A | 8-12 | X | No | < 50 | Tap Water | X | X |
| RODI-2000-01A | 8-12 | X | No | < 50 | Tap Water | 1-GPM | 200-Liter |
| RODI-2000-03A | 8-12 | X | No | < 50 | Tap Water | 2-GPM | 200-Liter |
Analytical Grade with UV Sterilizer
| | | | | | | | |
| --- | --- | --- | --- | --- | --- | --- | --- |
| Model Number | DI Flow Rate | Built-In UV | Built-In Ultrafilter | TOC PPB | Feed Water | RO Production | Storage Tanks |
| 2121AU | 2 | Sterilizer | No | < 50 | Pretreated | X | X |
| 2122AU | 2 | Sterilizer | No | < 50 | Tap Water | X | X |
| RODI-C-12AU | 2 | Sterilizer | No | < 50 | Tap Water | 10-LPH | 42-Liter |
| 2035AU | 8-12 | Sterilizer | No | < 50 | Pretreated | X | X |
| 2036AU | 8-12 | Sterilizer | No | < 50 | Tap Water | X | X |
| RODI-2000-01AU | 8-12 | Sterilizer | No | < 50 | Tap Water | 1-GPM | 200-Liter |
| RODI-2000-03AU | 8-12 | Sterilizer | No | < 50 | Tap Water | 2-GPM | 200-Liter |
Analytical Grade Ultra-Low TOC
| | | | | | | | |
| --- | --- | --- | --- | --- | --- | --- | --- |
| Model Number | DI Flow Rate | Built-In UV | Built-In Ultrafilter | TOC PPB | Feed Water | RO Production | Storage Tanks |
| 2121AL | 2 | Oxidizer | No | < 5 | Pretreated | X | X |
| 2122AL | 2 | Oxidizer | No | < 5 | Tap Water | X | X |
| RODI-C-12AL | 2 | Oxidizer | No | < 5 | Tap Water | 10-LPH | 42-Liter |
| 2035AL | 8-12 | Oxidizer | No | < 10 | Pretreated | X | X |
| 2036AL | 8-12 | Oxidizer | No | < 10 | Tap Water | X | X |
| RODI-2000-01AL | 8-12 | Oxidizer | No | < 10 | Tap Water | 1-GPM | 200-Liter |
| RODI-2000-03AL | 8-12 | Oxidizer | No | < 10 | Tap Water | 1-GPM | 200-Liter |
Basic Biological Grade
| | | | | | | | |
| --- | --- | --- | --- | --- | --- | --- | --- |
| Model Number | DI Flow Rate | Built-In UV | Built-In Ultrafilter | TOC PPB | Feed Water | RO Production | Storage Tanks |
| 2121B | 2 | X | Yes | < 50 | Pretreated | X | X |
| 2122B | 2 | X | Yes | < 50 | Tap Water | X | X |
| RODI-C-12B | 2 | X | Yes | < 50 | Tap Water | 10-LPH | 42-Liter |
| 2035B | 8-12 | X | Yes | < 50 | Pretreated | X | X |
| 2036B | 8-12 | X | Yes | < 50 | Tap Water | X | X |
| RODI-2000-01B | 8-12 | X | Yes | < 50 | Tap Water | 1-GPM | 200-Liter |
| RODI-2000-03B | 8-12 | X | Yes | < 50 | Tap Water | 2-GPM | 200-Liter |
Biological Grade with UV Sterilizer
| | | | | | | | |
| --- | --- | --- | --- | --- | --- | --- | --- |
| Model Number | DI Flow Rate | Built-In UV | Built-In Ultrafilter | TOC PPB | Feed Water | RO Production | Storage Tanks |
| 2121BU | 2 | Sterilizer | Yes | < 50 | Pretreated | X | X |
| 2122BU | 2 | Sterilizer | Yes | < 50 | Tap Water | X | X |
| RODI-C-12BU | 2 | Sterilizer | Yes | < 50 | Tap Water | 10-LPH | 42-Liter |
| 2035BU | 8-12 | Sterilizer | Yes | < 50 | Pretreated | X | X |
| 2036BU | 8-12 | Sterilizer | Yes | < 50 | Tap Water | X | X |
| RODI-2000-01BU | 8-12 | Sterilizer | Yes | < 50 | Tap Water | 1-GPM | 200-Liter |
| RODI-2000-03BU | 8-12 | Sterilizer | Yes | < 50 | Tap Water | 2-GPM | 200-Liter |
Biological Grade Ultra-Low TOC
| | | | | | | | |
| --- | --- | --- | --- | --- | --- | --- | --- |
| Model Number | DI Flow Rate | Built-In UV | Built-In Ultrafilter | TOC PPB | Feed Water | RO Production | Storage Tanks |
| 2121BL | 2 | Oxidizer | Yes | < 5 | Pretreated | X | X |
| 2122BL | 2 | Oxidizer | Yes | < 5 | Tap Water | X | X |
| RODI-C-12BL | 2 | Oxidizer | Yes | < 5 | Tap water | 10-LPH | 42-Liter |
| 2035BL | 8-12 | Oxidizer | Yes | < 10 | Pretreated | X | X |
| 2036BL | 8-12 | Oxidizer | Yes | < 10 | Tap Water | X | X |
| RODI-2000-01BL | 8-12 | Oxidizer | Yes | < 10 | Tap Water | 1-GPM | 200-Liter |
| RODI-2000-03BL | 8-12 | Oxidizer | Yes | < 10 | Tap Water | 2-GPM | 200-Liter |