Technical Facts
01
Flow Range
Lab gas generators are available for table top versions offering 200 to 600 cc/min hydrogen to larger floor standing units offering up to 4800 cc/min ultra-pure hydrogen.
02
Hydrogen Purity
G-Series, table top units for low flows, offer 99.9995% hydrogen purity. The larger G4800 unit offering 4800 cc/min flow, offers 99.9999+% hydrogen purity. G600-H2P model offering 600 cc/min flow, offers 99.99999% purity.
03
Hydrogen Pressure
G-series table top units offer hydrogen between 3 to 8 bar. G4800 offers hydrogen at 13.8 bar pressure.
MVS Lab Hydrogen Generator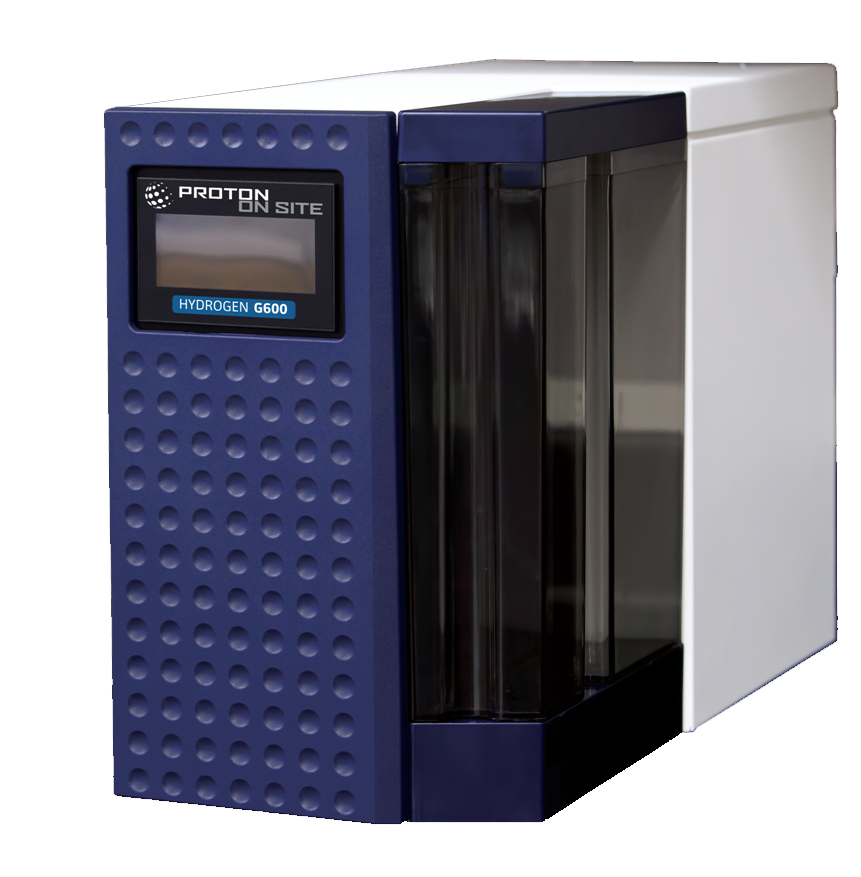 How it works?
The G Series bench-top generators utilize PEM technology to produce ultra high purity hydrogen consistently on-site. With efficiency in mind, they sense demand and adjust production accordingly. The generators are space-saving solutions that maintain quiet and steady operation.
Well suited to meet unique purity requirements, the G600-HP generators are designed with advanced internal gas purification abilities to generate the highest purity hydrogen carrier gas on the market.
The G4800 laboratory-sized hydrogen generator is designed for multiple GC, FID and carrier gas applications. It utilizes Proton Exchange Membrane (PEM) cell stack and PSA technology to produce UHP hydrogen for laboratory applications.
Collaboration

MVS supplies lab hydrogen generators manufactured in USA by Proton On Site (USA). Proton is the world leader in Proton Exchange Membrane type Hydrogen generators, having sold in excess of 2500 systems worldwide. On the Indian sub-continent, MVS and Proton together have supplied over 30 systems with reputed customers such as Indian Oil Corporation, Reliance Group, GE among many others.
Safety
Proton hydrogen generators, operating on Proton Exchange Membrane (PEM) technology work on the principle of differential pressure. Hydrogen is produced at high pressure and Oxygen is produced at a low pressure. This high differential pressure will not permit Oxygen to entrain the Hydrogen stream and thereby giving inherent safety. In case of Hydrogen leak, the on-board leak detectors will sense very low levels of Hydrogen and shut down the system in case of abnormality.
Models
| | | | | | |
| --- | --- | --- | --- | --- | --- |
| | G200 | G400 | G600 | G600-HP | G4800 |
| Flow | 200 cc/min | 400 cc/min | 600 cc/min | 600 cc/min | 4800 cc/min |
| Purity | 99.9995%(H2O < 5 ppm, O2 < 1 ppm) | 99.9995%(H2O < 5 ppm, O2 < 1 ppm) | 99.9995%(H2O < 5 ppm, O2 < 1 ppm) | 99.99999%(H2O < 100 ppb) | 99.9999+% |
| Output Pressure | 3 to 8 barg / 43 to 116 psig | 3 to 8 barg / 43 to 116 psig | 3 to 8 barg / 43 to 116 psig | 3 to 8 barg / 43 to 116 psig | 13.8 barg (200 psig) |
Features & Benefits
Proton lab gas generators offer the following features:
Maintenance reminder
Removable feed water tank
Report alarms
Touch screen display